FINDING A NEW TEAM RECTOR (Posted 19th June 2022)
We are now advertising the vacancy in the Church Times, and we hope there will be a suitable applicant. The Profile describing our Mission Community and what we are seeking for in a new Team Rector can be found here
LIVING IN LOVE AND FAITH (Posted 1st October 2021, updated 27th December and 10th June 2022)
30+ people from across our mission community took part in three groups using the Living in Love and Faith course, which looks at issues of identity, sexuality, relationships and marriage. There was very positive discussion, and several participants have sent in comments and contributions as the Church of England reaches a crucial stage in the debate about these issues. As a group of churches we are committed to welcoming all, and many of us want to see change to a far more accepting position in the Church of England.
CURATE LAURA TO TAKE A YEAR'S ABSENCE (Posted 28th November 2021)
Laura writes: I am going to pause my role as curate and take a year's leave on 1st January. I am delighted to share with you that I'm becoming a parent, adopting a 5 year old boy who I'll meet and bring home in the early weeks of 2022. It has been a long process, one that Tom Benson and the Archdeacon have been part of since the beginning two years ago, and a calling that is best fulfilled whilst I'm a curate.
We shall greatly miss Laura's enthusiasm, ebullience and her concern to make sure that all is as well organised as possible. We wish her well as she becomes mother to a little boy, and offers him the care and support he needs.
Gina will of course be in overall charge of the Mission Community and its 7 churches, supported by the other members of the ministry team. However, Gina is meant to be half-time, and the other team members are all voluntary, so it is clear things are going to be tight. So do please do all you can to support our ministry team.
THE NEXT STAGE OF THE JOURNEY (Posted 20th June 2021)

Following the move of the Rev Tom Benson to a new parish, we are starting on the process of seeking a new incumbent. The churchwardens of all our parishes and the clergy and readers are meeting together, and beginning to work on the profile which will describe our various churches, the overall mission community, the different needs, and the qualities and gifts we are looking for in a new Team Rector.
The life of the Mission Community now continues – the exciting journey of following the Lord's leading.
We thank Tom for the huge amount he has done over the last years. We shall greatly miss his ministry among us, but we wish him and Maryanne well for their new future.

Tom's last Sunday morning service with us was on June 6th, and concluded with worship in the open-air behind St Luke's Church, Buckfastleigh, including a presentation on behalf of Buckfastleigh Town Council. Photos below.
Congratulations to Gina
The Rev'd Professor Gina Radford, Team Vicar in our Dart and Avon Mission Community, has been awarded the Canterbury Cross by the Archbishop of Canterbury for her outstanding work providing medical advice for churches and the Church of England's senior leadership during the Covid-19 pandemic. Gina is a former Deputy Chief Medical Officer for England. 
Laura's priesting
Our curate, Laura McAdam, was priested in a small but lovely service at St Luke's, Buckfastleigh, on 27th September, 2020
Worship in the great outdoors
As well as worship in church and online some of our churches have experimented with open-air services – recently one at Littlehempston and one at Staverton.
August 2020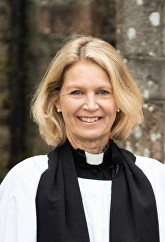 Gina Radford, our Team Vicar
The Reverend Professor Gina Radford was licensed on 12th June 2019 as Team Vicar in the Dart and Avon Team Ministry. Gina works on a half-time basis, with special responsibility for the parishes of South Brent and Rattery.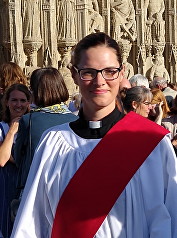 A new member of the ministry team
Laura McAdam was ordained deacon on September 14th 2019 in Exeter Cathedral to serve as curate in our mission community.
Good Friday on Brent Hill
As usual on Good Friday there was a procession with a cross from the middle of South Brent to the top of Brent Hill.
A large number of people (and a good few dogs) processed, stopping at several places for a Bible reading, hymn and prayer, as we reflected on Jesus' crucifixion.
  Easter 2019
The Dart and Avon Mission Community
This started officially on November 1st 2018 and was inaugurated at a service of Holy Communion on Sunday November 18th 2018 in St Petroc's Church, South Brent.
The service was followed by a bring-and-share lunch, with people from the different churches mingling together.
November 2018